2003-07-28 - 2003-07-28 Brought a 1.8S berlinetta¶
Animal and I travelled to the sea side in order to pick up this 1987 1.8 berlinetta coupe. I was determined to get a coupe, but mainly only because they look a bit better than the Cavalier looking hatch in my opinion. I hoped for one without a sunroof, but this one appeared at only £375! Bargain I thought, so we picked it up there and then.
Part of the attraction of this car were the following points:
(a) It's a 1.8, and this OHC engine shares the same block design as the 2ltr 16V (Family 2) opel engine, so fitting this engine in the future would be very easy, and I would have all the parts I need.
(b) White is an easy colour to work with. Looks fine for a rally-like track car ;)
© It's cheap, and has quite a solid shell.
The car was bog standard when I brought it. With some VERY soft and wobbly suspension.. AVO do a nice coilover kit for the manta, so eventually, that's what I have planned for her.
I got straight down to business with stripping the interior out of the car in order to reduce the kerb weight. Having removed the passenger seat, and the rear bench seats, as well as all the sound proofing, dash (except the dials) and the heater matrix + fan blower, etc. I have achieved about a 115kG weight loss. This sat the suspension even higher than normal!!
Here are some images from the car getting stripped:
The heater matrix + fan / blower and sound deadening is removed for weight saving. Although when driving on a damp day, you do suffer a lot from condensation on the inside of the car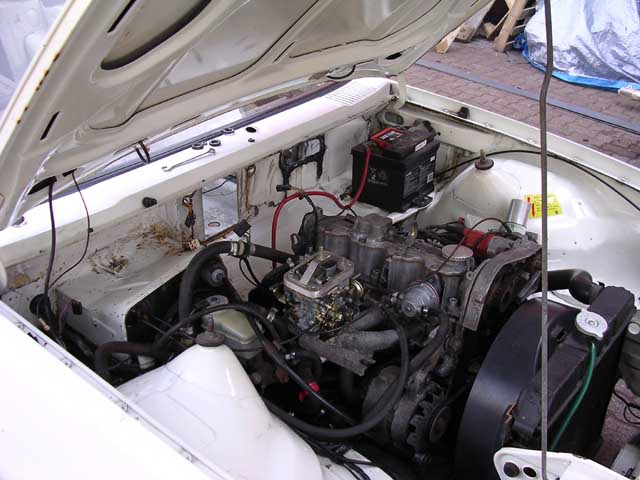 No passenger seat, and no dash. The manta dash is all quite heavy as it is densly moulded foam, with a metal backing. All weight counts in a track car I think, so that all went in the bin. The clocks remain so that the car is still road legal, and I know what speed I'm doing!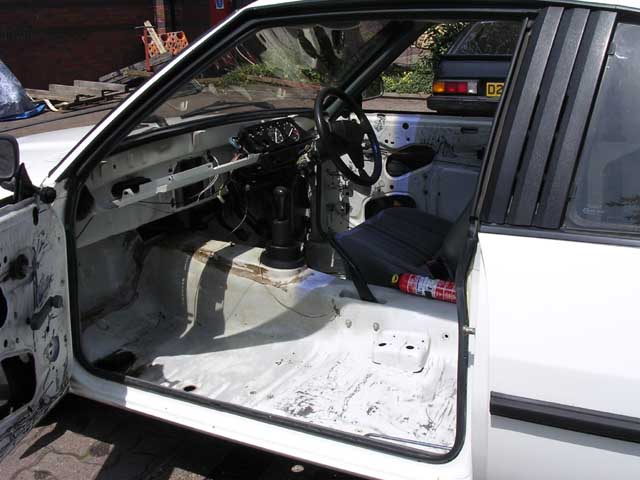 The rear bench has also gone, and there is no longer any sound deadening on the floor. The sound deadening can be removed easily with a plastic scaper and a heat gun, or blow torch. When the sound deadening is heating, it becomes a lot more pliable, and the backing glue melts, you can then scrape it easily off the shell. For any flue that remains, I recommend you use a clotch, or scotch cloth if it's really stubborn, and use white spirit to remove the glue. It melts it very easily, and is a lot better than thinners, as it does not evaporate as quickly.
I have relocated the battery to passenger seat (when I install one anyway! :p ) This helps with weight distribution. Having this weight much lower down is beneficial. Every little helps ;)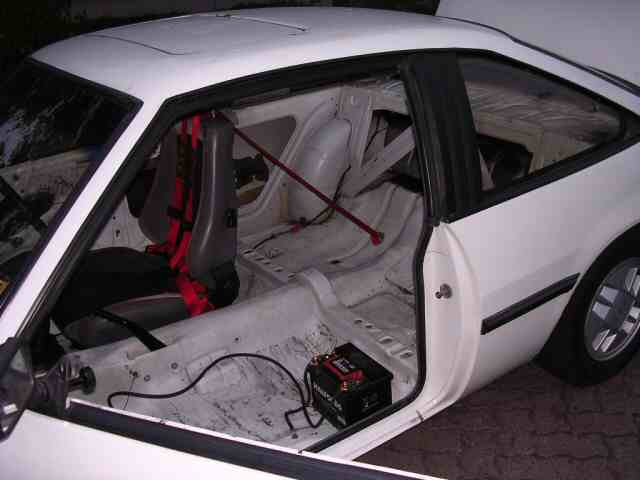 The gunk that is put on the doors to stop the trim rattling is horrible stuff. But with enough effort, comes off without removing the paint if you use white spirit and a plastic scraper, and a cloth to tidy up with.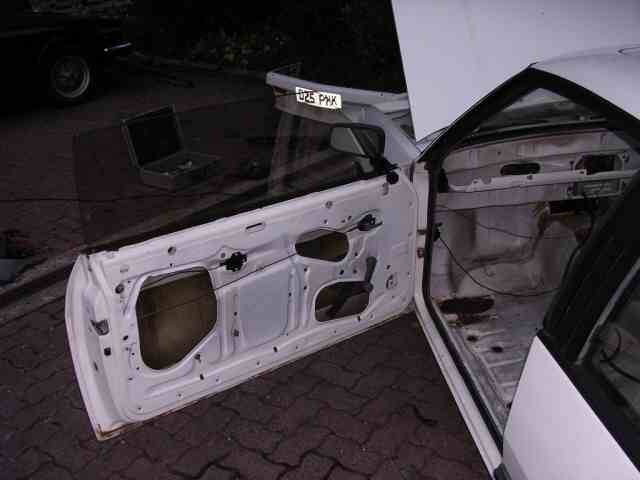 It's a fairly old car, and rust is in a few places, but overall this is a good shell, especially what I paid for it! I hammerited the front part of the shell, but this is only a very small part of the job ahead. I intend to take off all the underseal, and replace it with hammerite, or a similar strong white paint. This will enable me to see problem areas with the shell quickly. It will also highlight CV joint grease leakages, and oil leaks from the diff, gearbox or engine easily.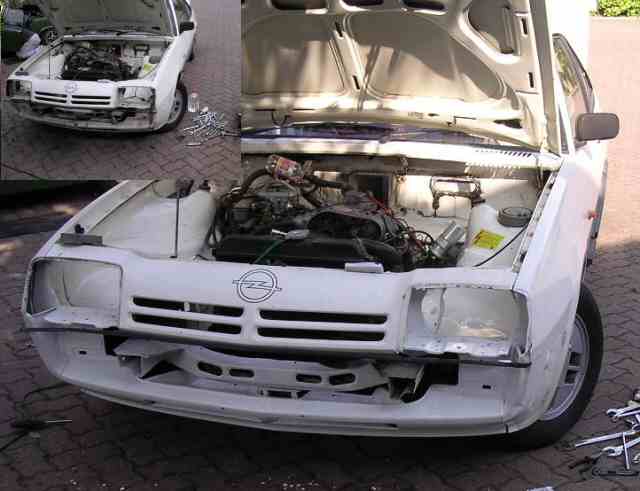 Yep, weight is now harder to get rid of. This little pile consists of some bits of wound deadening from the engine bay, which sits right behind the engine on the bulk head, and the headlamp wiper motors. All in all about 2kG. Not much at all considering the effort involved in removing these bits! But it's really not worth them being on the car either.