2004-12-10 - 2004-12-10 Were back¶
The Manta's been on the back burner for while as every list I made for finishing it off made it seem like it would cost a fortune and take forever!
We're back on track now, although I guess not that much has changed! The gearstick nears completion as it's positioned into a comfy position ;) It'll be welded on this weekend, and hopefully I should be able to test it out to make sure I can actually change gears with it!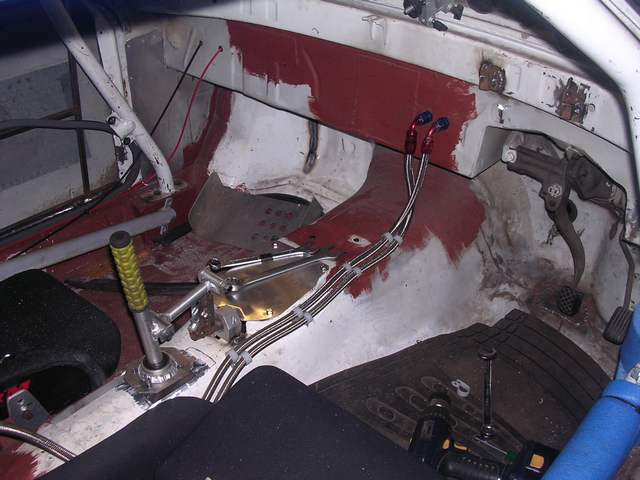 I've also changed the straight -6 fittings on the bulkhead for 90deg ones, and they work a lot better. Next time I'll remember that the nuts on the fittings are the same, and I could have just unscrewed the straights and screwed on the 90deg's! D'oh!
Next on the list of things to get is a Corsa EPS Column. This can then be fitted, and so can the basics of the hydraulic handbrake too, which will be behind the steering wheel :D Having seen that done, it has to be the way to go. It'll also stop Animal trying to slow me down by keeping it on all the time if he can't reach it when he's harnessed in! :P
I have also got the perspex for my windows now. All I need to do is get some plywood to make templates for routing the windows. Then I'll just seal and rivet them in place. Should do the job.