2005-08-04 - 2005-08-04 Done something¶
Well, I've found and fitted a Corsa EPS system out of a 2001 Corsa. I have to design and build a control device to allow me to vary the amount of assistance it will deliver vs. the speed I'm going. I'd like it to not assist at higher speeds, unless of course I'm too weedy to be able to steer!
The column is mounted to the crossmember on the front bulkhead which has had 3mm reinforcing plates welded on to add strength. The column is mounted at the front, and at the rear with M8 socket cap screws, so I imagine it's not going to fall off in a hurry or come off in my hand!
The driving position is good, and I have taken out my old seat mounting points and replaced them with seat rails that go across the floor pan. I feel happier sitting on rails that I did with the other solution I had.
I now have most of what I need for the braking system too. I have 10m of stainless reinforced line, and plently of fittings. I've also got a remote master cylinder for the hydraulic handbrake. I will keep the cable handbrake too, purely for ease of mot purposes.
Here's the column: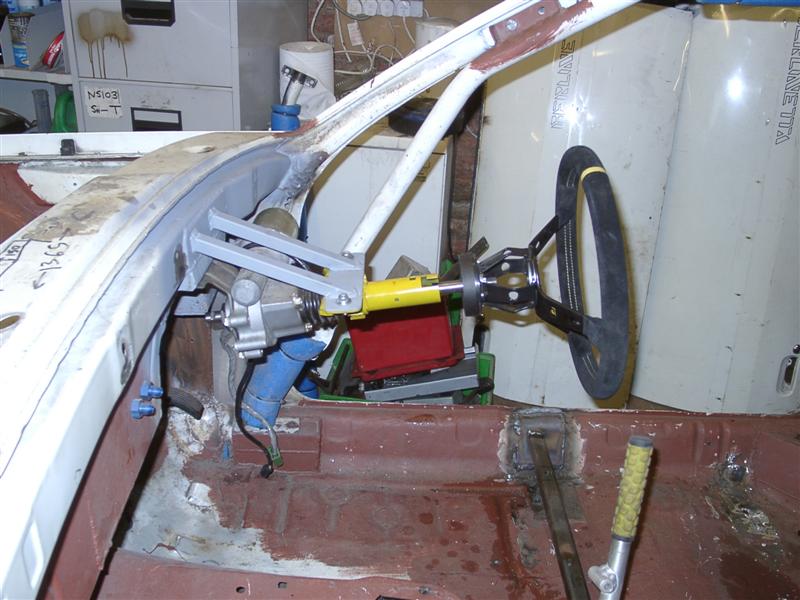 And now that I have a new job, I hope I can press on a lot quicker with the project and get it finished and on the road by next Jan or Feb... :)