2010-04-26 - 2010-04-26 Nearly finished the second manifold¶
Nearly finished the second manifold. Tomorrow night I just need to trim the pipe lengths and add on the collector. I also need to finish sealing up the other collector and add a small piece of 2" tube onto the end of the collectors which will form a slip joint for the secondaries to fit on to. Then another couple of slip joints on the 2.5" section and the rest of the system can be built. Hopefully, tomorrow night will see the complete engine + gearbox and prop shaft installed. I picked up the prop last Saturday from reco-prop. Scott is a top guy who sorted me out as promised.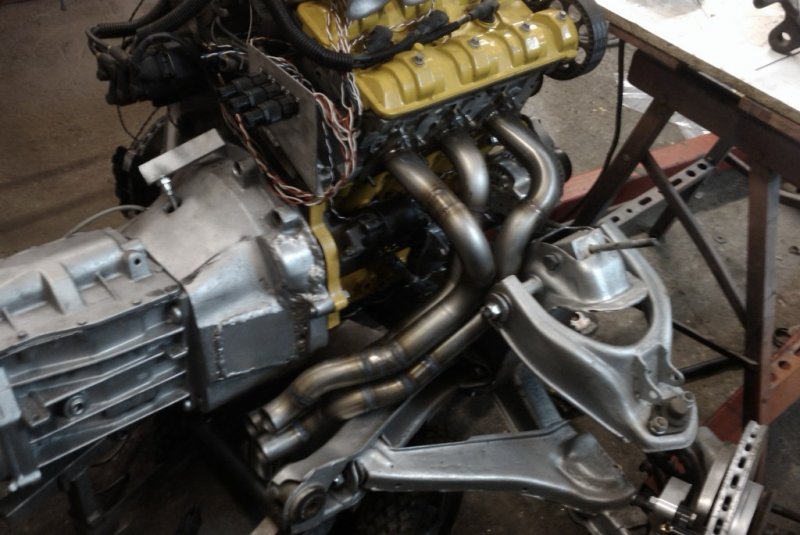 Clearing the sub frame whilst dodging the starter motor and more importantly the steering column made this manifold a bit more challenging. I'm glad I didn't bother trying to make these manifolds with equal length pipes!!
At the weekend it was concluded that aiming to have the Manta MOT'd and roadworthy for the engine mapping session is a bit ambitious now as things have slipped a bit (everything takes longer than you estimate!). So now I am going to hire a trailer and hopefully Matt will be able to pick it up and tow the manta to Track and Road on Thursday, May 6th to get the engine mapped. Then I have a couple of weeks to get it MOT'd, the prohibition notice lifted, insured and what-not.
Fingers crossed...